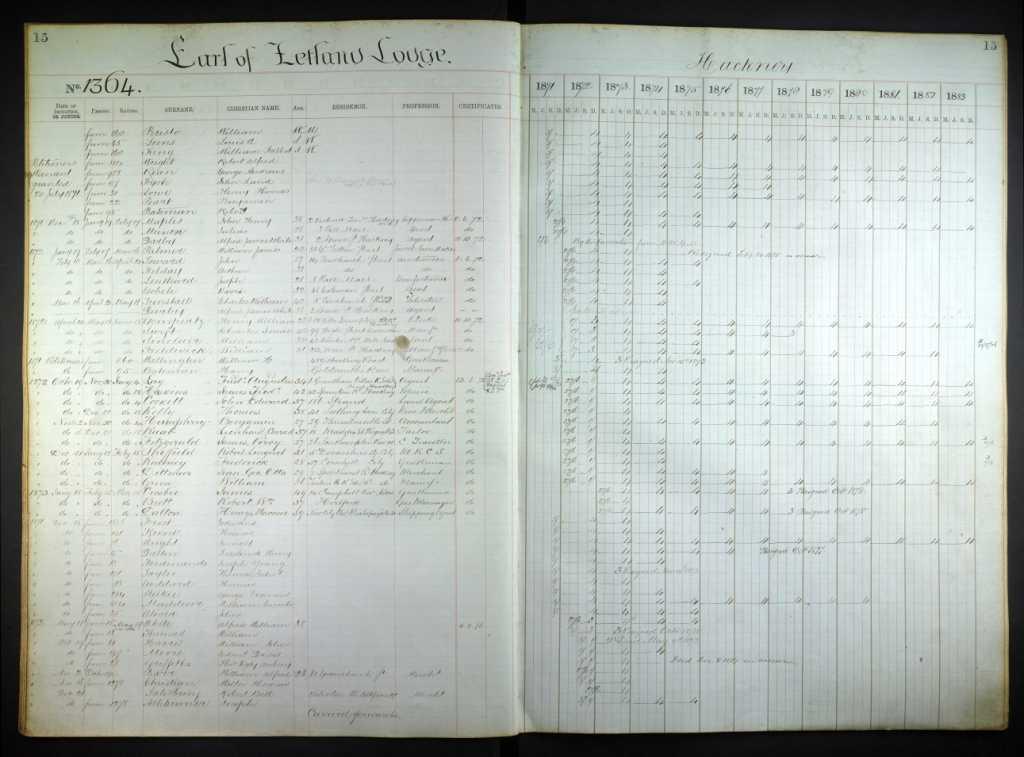 Freemason's Records — An Addictive Pastime
Following on from my post of yesterday 'Genealogy, Finding Your Freemason Ancestor' https://pettswoodlodge.org.uk/2023/07/13/genealogy-finding-your-freemason-ancestors/ I wanted to add in my story about how I found my Freemason ancestors.
I knew that somewhere in my family, one of my ancestors was a Freemason – my Father had told me that he thought his Great Grandfather or perhaps his Great Uncle was in a Lodge, but neither he nor his Father were Freemasons. As it turns out, he was almost right on both counts. His Great Grandfather was a Freemason as was his Great Uncle and also his Great Great Grandfather too but I don't think he knew that. I think he would have been surprised to find out that more members of our wider family were also involved too.
Using the United Grand Lodge data at Ancestry https://www.ancestry.co.uk/search/collections/60620/ I was able to trace my ancestors starting off with a general search on my surname (and its variants) and then drill down into the details. The resulting records are provided as a transcript giving the basic details including:
Name
Gender
Initiation Date
First Payment on Register
Year Range
Profession
Lodge Name
Lodge Location
Lodge Number (s) – where a Lodge may have had its number changed these will be displayed
Folio Number
Additional Search Records.
You can then follow the link to see a scan of the actual Lodge records and see other information including
Record for subscriptions often by month/meeting
Dates of Initiation, Passing & Raising
Surname
Christian Name
Age
Residence
Profession
Certificates (Grand Lodge Certificate).
Using Lane's https://www.dhi.ac.uk/lane/index.php website you can check the status of the Lodge(s) and further searching can take you to the District or Provincial Website and you can carry on your research from there.
I found that my Great Great Great Grandfather was initiated on 15th December 1871 into the Earl of Zetland Lodge No. 1364 in Hackney, London. The Lodge was Erased on the 10th of June 2009 due to decreased membership.
His son, my Great Great Grandfather was initiated on 28th March 1883 into Beacon Court Lodge No. 1967 meeting at New Brompton Kent. He was, according to Census returns, a Ship's Engineer and so a Lodge near Chatham would fit in well with his occupation. The Lodge still meets in Rochester at the Gundulph Hall and is an East Kent Lodge.
On the 14th of June 1871, my Great Great Uncle (aged 32) was Initiated into Union Waterloo Lodge (Woolwich) No. 13. As I know a number of members of this Lodge it was rather exciting to find a connection to the Province of West Kent. They meet at the Dartford Masonic Centre now.
I found many Cousins too were initiated into Lodges including:
in 1920, Initiated into Waltham Abbey Lodge No 2750. Checking on Lane's Masonic Records they still meet at Chingford.
in 1908, Initiated into John Miller Lodge (Madras) No 1906 which looks as if it still meets under the District Grand Lodge of Madras.
in 1911, Initiated into the Federation Lodge (Calcutta) No 2871 which looks as if it still meets under the District Grand Lodge of Bengal
In 1909, Initiated into the Lodge Pioneer No. 1490 Assensole (West Bengal) which too looks as if it still meets under the District Grand Lodge of Bengal
In 1917, Initiated into New Finsbury Park Lodge No. 1695 which looks as if it is still active and meeting at Great Queen Street.
In 1908, Initiated into Clarence and Avondale Lodge No. 2411 Erased: 11th December 1994 due to decreased membership.
In 1907, Initiated into the Lodge of Light No. 2721 which looks as if it is still active meeting at Great Queen Street.
In 1865, Initiated into St John's Lodge of Colombo (Kandy Ceylon) No 665 still meeting (number changed to 454) in Kandy Masonic Temple, Siebel Place, Kandy.
And in 1863, Initiated into United Tradesman's Lodge No 853, Adelaide. It appears to have been Erased on 3rd June 1885
Genealogy can be a rewarding hobby and can take up so much of your time if you are not careful. I've managed to get my family tree back to around 1580 – it's only taken me 45 years! However, these Freemasonry records have really added a new dimension to my family history and to think that two of my relatives were Kent Freemasons and one in Union Waterloo Lodge https://www.unionwaterloolodge.co.uk/ too!
References:
Lane's Masonic Records, version 2.0 (<http://www.dhi.ac.uk/lane>, 2020). Published by The Digital Humanities Institute, University of Sheffield.
Ancestry.com records specifically https://www.ancestry.co.uk/search/collections/60620/