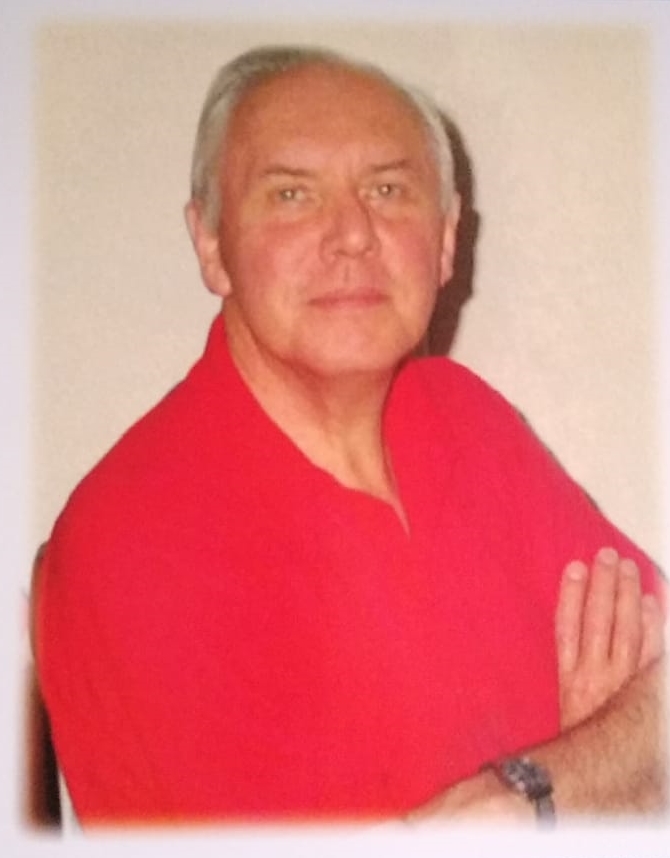 The members of our Lodge and the wider Masonic Community were very fond of Paul, he was a lovely man and who perfectly fitted the title of Gentleman. Many of us were encouraged and supported by Paul in his quiet unpretentious way and we have lost one of life's unassuming contributors who calmly got on with things in the background and helped us all with his steady wisdom and measured thoughtfulness.
Paul was a stalwart contributor to the life of his Lodge and was involved with the very core of our activities. He was sorely missed when he could no longer attend our Lodge, Chapter and our Lodge of Instruction meetings.
He joined Freemasonry on the 4th March 1954 being initiated into Worcester Park Lodge No 5402 and remained a member there until 2015. He was proposed and initiated by his Godfather and enjoyed his early years in Masonry there. Worcester Park Lodge handed back its Warrant in 2017.
Paul joined Petts Wood Lodge on the 10th March 1962 and worked his way through the various Offices to become Worshipful Master in 1973. He became Director of Ceremonies ensuring that everything that went on in the Lodge did so smoothly, smartly and seamlessly. He held that Office until 1991 when he was Appointed Secretary. Paul presided over some major changes in the administration of the Lodge and handled it all in his usual calm manner although we can be certain that he was working much harder inside than the calm outward demeanour he showed to us.
He became Assistant Secretary and then went on to be our Chaplain from 2005 to 2009.
Paul was Exalted in to the Petts Wood Chapter on 19th February 1974. He surprised us all by never progressing through the Offices in the Chapter as he said he had difficulties learning the words. Anyone here will tell you that in fact Paul was an excellent ritualist and could step in at a moment's notice to fulfil almost any Office in the Lodge especially at our Lodge of Instruction. However, he held Office in the Chapter as Second Assistant Sojourner for many years. Our Scribe, PC, once suggested that we have a plaque made and engraved on his seat to record it.
In the Province of West Kent Paul received Provincial Honours and was Appointed by the Provincial Grand Master to Past Provincial Senior Grand Deacon in 1982, Past Provincial Grand Superintendent of Works in 1990, Past Provincial Grand Registrar in 1997 and to Past Provincial Junior Grand Warden in 2004.
Perhaps Paul might best be known for his unsurpassed commitment and support of the Lodge of Instruction. Paul joined the LOI in 1962 and in 1968 he became our Treasurer. Paul was to be our Treasurer for an astonishing 36 years! In 2004 Paul finally decided to hang up his abacus and pencil and hand the job on. I have to thank PC for once again working out that Paul attended 1080 meetings as Treasurer, surely a record that will not be surpassed?
In 2004 Paul celebrated 50 years in Freemasonry and in 2014 his 60th Anniversary, both of which are major achievements marked by citations from the Provincial Grand Master with special meetings arranged to celebrate such unusual and wonderful achievements.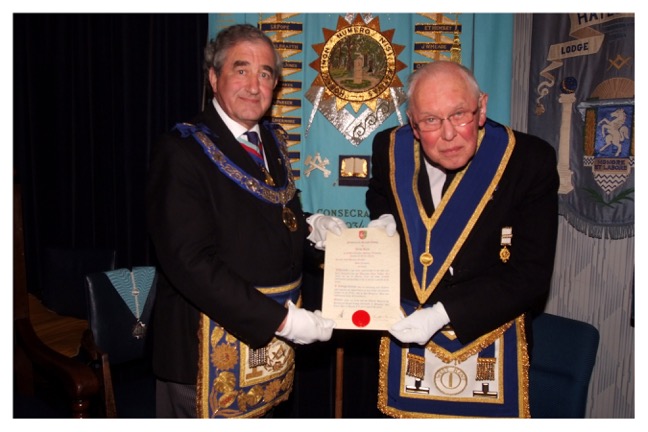 Paul regularly attended Provincial meetings and he was also a great supporter of the Friends of Prince George Duke of Kent Court at the RMBI home in Chislehurst and supported the Lodge's various fund raising activities including the Spring Fair and the Easter Egg Hunt.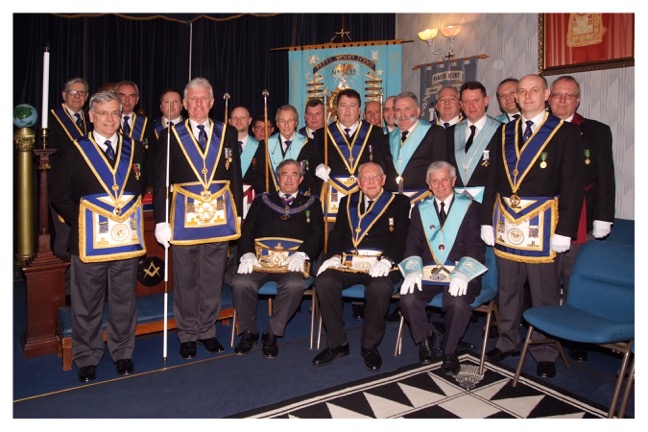 He was my mentor and guide as I took on the Secretary's role and we found that we both had an interest in Traditional Jazz music. I think it was around 1987 that we first started attending the Jazz nights at the Liberal Hall in Orpington listening to New Orleans style Jazz and discussing both Jazz and Classical music and films of which Paul had a great knowledge, especially films from the Golden Era. As I wrote these words the film "Some Like It Hot" had just been on the TV and I remember how Paul had an encyclopaedic knowledge of the actors, the music, the directors and so on, that being one of the films we often talked about amongst many others. Tony and Audrey Barker often attended the Jazz with us and we finally stopped going about 6 or 7 years ago when they ceased performing so I am guessing we did that for 25 years or thereabouts. Time flies.
One of the strangest coincidences came about when Paul worked out that our family trees were connected by marriage to my cousins in Bromley. I had only recently made contact with them after years of research and it was a happy coincidence that we had this connection.
Paul undertook his National Service between 1949 and 1950 R A S C CHQ MELF Canal Zone. This gave him the opportunity to see the Pyramids, Luxor, Valley of the Kings and visit Cyprus and all at the taxpayer's expense. Between 1950 and 1953 Paul was in the Territorial Army, Wandsworth where he learnt to drive a Bedford 3-ton truck. Paul often wished he was driving one of those rather than a car when leaving Oakley House!
Paul worked for the Commercial Bank of Australia 1950 to 1961 and then National & Grindlays Bank between 1961 and 1988. He took early retirement due to takeover by Australia and New Zealand Bank which he often joked was nearly going full circle back to his early days!
He was Chairman of the Grindlays Bank Staff Association between 1975 and 1986. He was also the liaison Officer for the 25 members of the Bank's Pensioners' Association living in the Orpington Area.
He Married Marjorie in 1955 and moved to Orpington in 1955 and have been at the same address ever since. Paul has two grown up sons.
Paul was also a member of the Probus Club of Orpington and its Chairman in 2001.
Such was Paul's service and influence on the Lodge and Chapter the members greeted with acclaim the proposition to make him an Honorary member of the Chapter in 2015 and the Lodge in 2016.
We will all miss Paul very much. His sage counsel and quiet, solid presence behind us, together with his calming and steadying influence on the Lodge allowed us to move forward into a new more open and inclusive fraternity. His support of everything we were doing allowed us to seek out his opinions knowing that he would listen carefully and present a thoughtful, well measured and balanced response, and we are all extremely lucky to have had his support, his mentoring attitude and above all his genuine and unselfish friendship over the years.
Paul was highly regarded by us all, without fanfare or display he was charitable and gave his time to help others without any wish for recognition or reward. He helped us all in one way or another and always with good humour and selflessness and we shall miss him all the more for those blessings he bestowed on us and the charitable impact he made on those less fortunate than ourselves.
In Freemasonry, there are some words that Paul would have been very familiar with. They are "You will live respected and die regretted" We respected Paul very much and we regret that he is no longer numbered amongst us.